Ventura Pacific D250 Antracite A825/G13
Ventura D250 is sewn in IsaLite, which makes it easy to keep clean thanks to the outer coating. Due to the low weight as well as the simple construction, the D250 is the ideal choice when you are on a camping trip.
174808259

Fast, uncomplicated assembly / high-quality Isalight fabric / roof with textile underside (printed on the inside) / all front and side panels can be folded down to create a veranda solution or even completely removed. This transforms your awning into a stable sun canopy! / Large mosquito net on the right side / high ventilation closable
Luxor Grey

Travel

Frame Options
Prenox steel frame
Lightweight IXL fibreglass frame
Roof Material

Isaroof light 240 g/m2 - UV-resistant polyester textile, treated with two layers of breathable acrylic.

Base Material

PVC 350 g/m2

Side/Front Material
IsaLite 240 g/m2

Color

Antracite
Front & side illustration
Figures: Covers A-measurement from-to (cm) Price group (G)
Red dots: No. of rafter poles.
Dotted outline: Zip for removable and fold-down panels.
Cross-hatched windows: Ventilation net with foil cover.
Base drawing
Dotted outline: Canopy.
Triangles: Door openings.
Weight incl CarbonX / IXL (kg)
Weight incl Zinox / Prenox (kg)
TIPS FOR MAINTENANCE
Vacuum or brush awning off when it is dry. Subsequently, wipe with a damp cloth.
Windows can occasionally be sprayed with Aquatex reproofer, and then immediately wiped with a dry cloth (max. twice a year).
For larger cleaning, IsaClean can be used. Aquatex should be used afterwards for reproofing.
Related items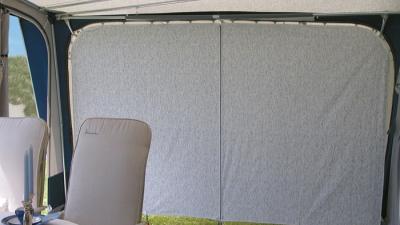 Partition wall for Annex 250. Attached to the opening, between awning and annex.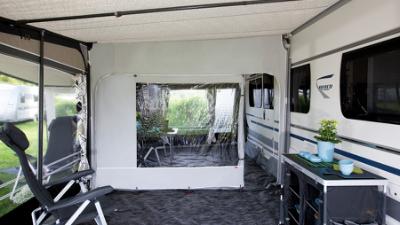 Coated polyester partition wall with window allows you to divide your awning.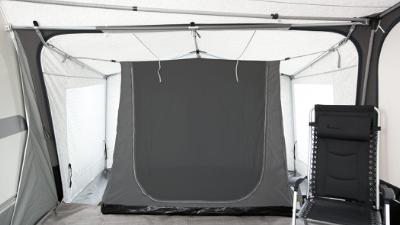 The perfect sleeping compartment for the kids or guests. Made of a dark grey material to keep the light out. To create the best conditions inside the sleeping compartment, there's a mosquito net and pvc floor. Great ventilation, and minimum rising damp.