Villa – The ultimate awning
for year-round camping
Villa is the awning for people who want to stay at the same place year after year, and who don't want to set up an awning and take it down again every season. It is designed to remain standing outside and offers great stability in harsh weather.
Villa is available in five different sizes and is set up using different modules. The many options let you design your own dream Villa.
1) Choose the size of your Villa
2) Choose the front panels you want
3) Choose how you want to combine them
4) Decide whether you want to expand with a tunnel
and a covered porch
Villa can be extended by as much as 34 m2. To create more space in the Villa, you can buy a tunnel, which gives you an extra depth of 70 cm. Why not use that extra depth to install a kitchen or create a TV room? If you want to enjoy the warm summer evenings longer, you can buy a covered porch for the right or left side of your Villa.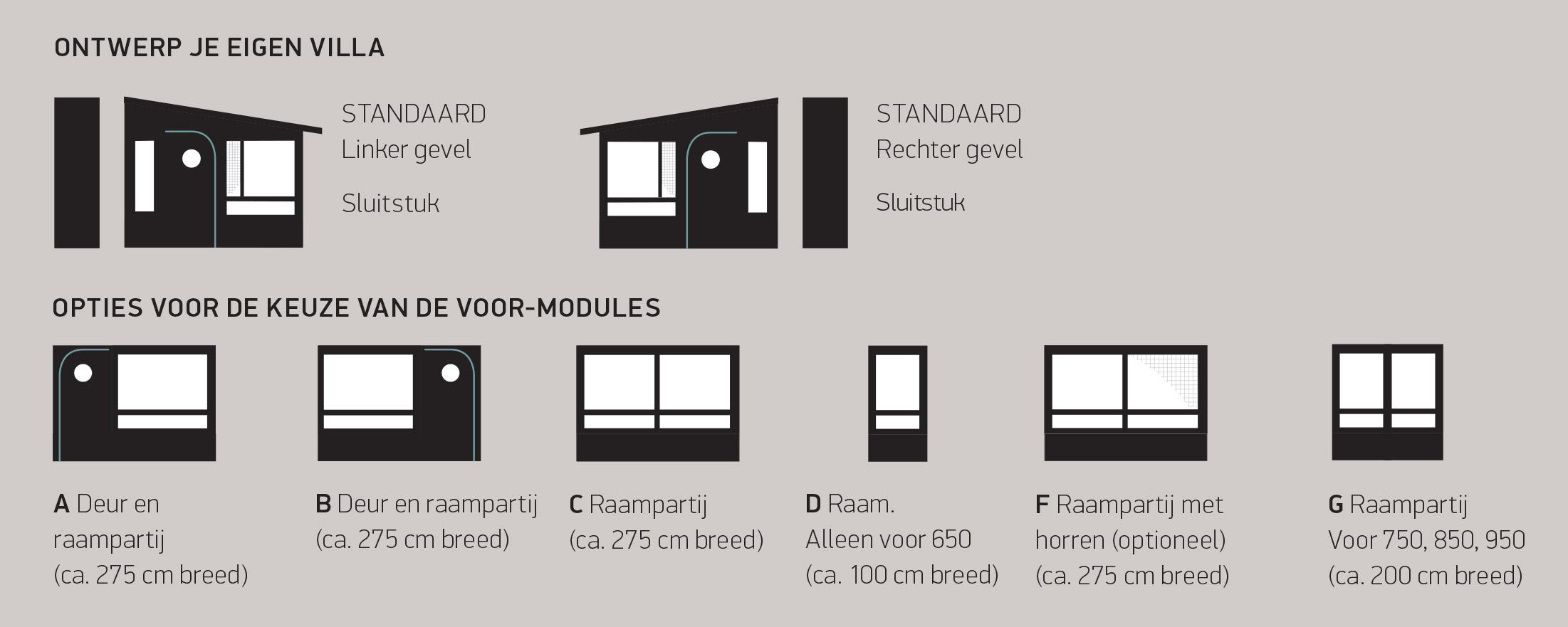 TECHNISCHE INFORMATIE
Maten: Diepte 300 cm.
Breedte: 550 cm, 650 cm, 750 cm, 850 cm, 950 cm.
Aantal deuren: Minimaal 2.
Ventilatie delen: Minimaal 2 in de zijdelen.
Overstekende luifel: Rondom.
Aansluiting: Gevoerd kussen en
verbindingsstuk
Overig: Ventilatie aan beide zijkanten.
Rondomlopende uitsteek.
STANDAARD PAKKET
Gordijnen: Cube Creme.
De Villa wordt geleverd met een verbindingsstuk tussen caravan en tent, 2 kussens,
caravan-tochtstrook en standaard wielkastafdekking.
De tent wordt geleverd met 2 achterwandelementen van 74 cm.
ACCESSOIRES
Achterwandelementen om de tent in zijn
geheel af te sluiten.
Binnenhemel.
Winterzekering (extra dakstangen en staanders).
Regengoot.
F- module (frontelement met gaasvenster).
Villadeur
Villa Tunnel
TERRAS
Een overdekt terras kan links of rechts
worden geplaatst. Het terras is 2 x 3 m
groot.
TUNNEL
Om de diepte tussen de achterwandelementen van je
Villa uit te breiden van 3 m
naar 3,70 m kun je een Tunnel monteren.
BELANGRIJK!
De Villa moet worden gemonteerd op
een vaste vloer met de exacte maten van
respectievelijk 300 x 550 cm, 300 x 650 cm,
300 x 750 cm, 300 x 850 cm, 300 x 950 cm.
Voor een optimale aansluiting op de caravan moet de
afstand vanaf de bovenkant
van de vloer tot aan de rail van de caravan
235 - 240 cm bedragen.

Bespreek dit met je dealer of met een
lokale timmerman.
Put together your very own Villa
Villa can be extended by as much as 34 m2.
Assemble the Villa tent to fit your needs. Choose the length, the fronts and the equipment you want.