Floor heating panels for camping
Keep your feet warm all year round
Isabella Floor Heating is for anyone who wants to keep their feet warm inside their awning when the seasons change and the temperature drops. The heating system consists of a heating cable laid in aluminium panels that effectively distribute the heat, so you avoid cold feet.
The Floor Heating system is quick and easy to assemble and must be laid on a firm and stable base. To achieve a comfortable surface, we recommend an Isabella Carpet on top of the underfloor heating system.
You decide where you place the heating panels in the awning. They do not necessarily have to be laid throughout the awning. The area around the dining table may be enough, or divide the living space into a heated and unheated zone.
NB: Underfloor heating keeps your feet warm and complements the heater in your awning well.
Specifications:
The Floor Heating set consists of two boxes with aluminium panels and one box with a 62 metre heating cable 10W/m. incl. a reel for installation (heating cable to be purchased separately).

The aluminium panels in a set measure in total: 3 x 2 m
Heating cable: 10 W/m, 62 m in length
Consumption: 0.6 kWh per 6 m2 underfloor heating
Laying: Firm and stable base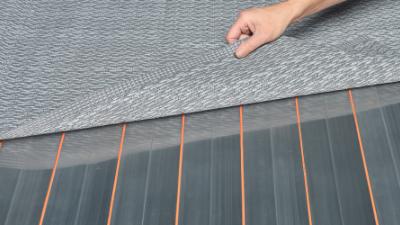 Our underfloor heating can only be purchased in sets of 6 m2 at a time.
An underfloor heating set consists of:
2 x 3 m2 aluminium panels (add two boxes to the basket) + 1 x heating cable for 6 m2 floor (add one box to the basket)
If you want more square metres of underfloor heating, add 2 boxes of aluminium panels and 1 heating cable for every 6 m2 of underfloor heating you want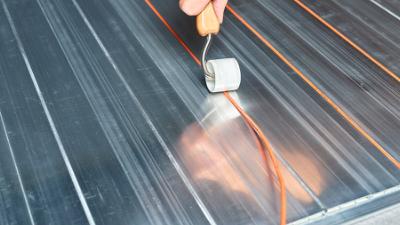 Our underfloor heating can only be purchased in sets of 6 m2 at a time.
An underfloor heating set consists of:
1 x 6 m2 heating cable (add two boxes to the basket) + 2 x 3 m2 aluminium panels for floor (add one box to the basket)
If you want more square metres of underfloor heating, add 2 boxes of aluminium panels and 1 heating cable for every 6 m2 of underfloor heating you want