Forum Etna A1150/G22
The popular Forum awning has made a comeback in the Isabella range. The 2021 Forum is designed solely with a mega frame to give you all the stability you need for your permanent pitcher.
128111501

Adjustable fronts
Partition wall
Front and side panels and partitionwall

Cube Creme

Etna

Permanent, All Seasons

Frame Options
Zinox Megaframe tubular steel frame 32mm diameter with welded corners and double screw locking.
Roof Material

Isaroof 285 g/m2 - Ultra-durable UV-resistant polyester textile, treated with three layers of breathable acrylic.

Base Material

PVC 380 g/m2

Side/Front Material

Isacryl 295 g/m2 - particularly breathable material

Color

Vulcano

Walnut
Front & side illustration
Figures: Covers A-measurement from-to (cm) Price group (G)
Red dots: No. of rafter poles.
Dotted outline: Zip for removable and fold-down panels.
Cross-hatched windows: Ventilation net with foil cover.
Base drawing
Dotted outline: Canopy.
Triangles: Door openings.
Weight incl MegaFrame (kg)
TIPS FOR MAINTENANCE
Vacuum or brush awning off when it is dry. Subsequently, wipe with a damp cloth.
Windows can occasionally be sprayed with Aquatex reproofer, and then immediately wiped with a dry cloth (max. twice a year).
For larger cleaning, IsaClean can be used. Aquatex should be used afterwards for reproofing.
Related items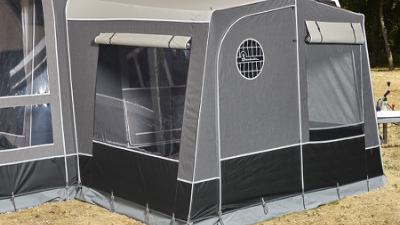 Fits: Prisma, Commodore, ­Ambassador, Capri North, Magnum, Ventura D250/300, Forum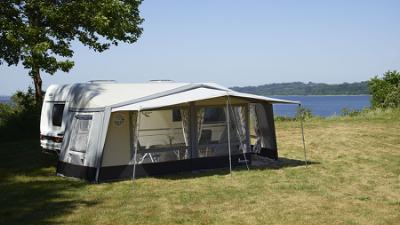 Ever had trouble finding room for an awning and a front sun canopy?
It can often be hard to find the space on some camping sites for a 3-meter awning, such as a Commodore, and a standard front sun canopy with a depth of 2.25 meters. We've therefore developed the Mini Eclipse, which is just 1.5 meters deep.
Forum
The adjustable fronts of the Forum give you plenty of options for adapting your indoor and outdoor spaces however you want them. The front can either be pulled back one metre to make space for a covered terrace area, or you can just pull one half back and create a porch in front of the entrance door.