Front Sun Canopy Mini Eclipse G14
Ever had trouble finding room for an awning and a front sun canopy?
It can often be hard to find the space on some camping sites for a 3-meter awning, such as a Commodore, and a standard front sun canopy with a depth of 2.25 meters. We've therefore developed the Mini Eclipse, which is just 1.5 meters deep.
212010148

Mini Eclipse gives you a smart little covered terrace in front of your awning to provide shade inside and keep the temperature comfortable.
Mini Eclipse is available in G14 – G23 and must be mounted on the awning for use (cannot be mounted directly on the caravan).
Travel

Commodore, Ambassador, Capri, Ventura D300, Ventura D250

2008 ->

In doubt about which type of frame to choose? Look under Tips & Tricks in the top menu.
Frame options

CarbonX fibreglass frame with IsaFix locking clamp
Roof fabric

Isaroof light 240 g/m2 - UV-resistant polyester textile, treated with two layers of breathable acrylic.

Colours
Sand
Front & side illustration
Red dots: No. of rafter poles.
Dotted outline: Zip for removable and fold-down panels.
Cross-hatched windows: Ventilation net with foil cover.
Base drawing
Dotted outline: Canopy.
Triangles: Door openings.
TIPS FOR MAINTENANCE
Vacuum or brush awning off when it is dry. Subsequently, wipe with a damp cloth.
Windows can occasionally be sprayed with Aquatex reproofer, and then immediately wiped with a dry cloth (max. twice a year).
For larger cleaning, IsaClean can be used. Aquatex should be used afterwards for reproofing.
Related items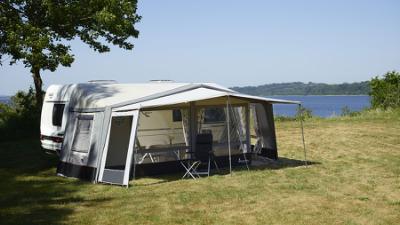 The side panel for Eclipse is easily assembled using plastic connecting strips. The side panel can be used on either the left or right hand side.
Front Sun Canopy Eclipse
Not only is Eclipse suitable for use as a front sun canopy on Isabella's awning models, but it can also be used as a lightweight touring sun canopy directly on the caravan. Eclipse is also available in a mini version (can not be put directly on the caravan), which is 150 cm deep.